Headlines don't sell papes.
Skip the coffee/tea I normally tell you to grab before joining my PTR/TR. This trip is coming along so well already that I popped some champagne for everyone!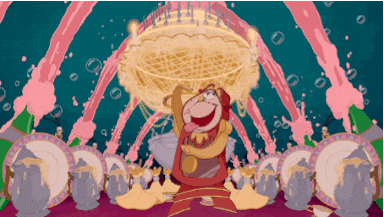 ​
I promised myself I wouldn't jump the gun on this PTR and post it before I was finished with my November 2019 TR... but planning this trip has been so exciting so far that I just couldn't wait any longer! So without any further delay (I might explode otherwise), I present to you:

​
I really tried to hold off on writing this PTR because I didn't want to get sidetracked from my TR or my blog, and because normally: I don't have a lot to write in the way of PTRs. I book my ADRs. I book my FP+. I get my Magic Bands in the mail. I call it a day. But planning this trip has already been... hoo boy. So much has happened within the last three weeks that it would physically kill me to let another cool thing happen without having a PTR to rush off to. I am still in the middle of my November 2018 TR, so please check that out here if you're interested! ShellieMay, Slinky Dog, and the SCRUNCHIEST Thanksgiving Ever! - A Nov 18 TR

We are in the middle of planning our annual trip to Walt Disney World Resort, August 18-24, 2019. We will be staying at a Deluxe Studio - Standard View at The Villas at Disney's Grand Floridian Resort and Spa. We have tickets to Mickey's Not-So-Scary Halloween Party, and are hoping to register for Moonlight Magic at Animal Kingdom during the week. We normally use the DDP, and are hoping to add it onto our room before this trip as well.

Since 2010, this will be our seventh WDW vacation as a family. So before I continue-- come meet the family!

​
Here we are! We are a goofy quartet from NJ and we are crazy, crazy, crazy about Walt Disney World Resort! Some families watch sitcoms together, we watch TheTimTracker, Neverland Family, and a few other vloggers together. In 2017, we joined the Disney Vacation Club family! Our home resort is Disney's Polynesian Village Resort. Last year, we joined the Annual Passholder family. While we love Disney World, we love it in different ways-- as I'll explain in this PTR, there are two very separate preferred park touring styles between myself and my family!

I'm running out of creative ways to introduce everybody, so for this PTR, I just had everybody say a blurb about themselves:

Tom: Our dad!​
"The first time I ever went to Disney was 1976 during the bicentennial. I enjoyed that a lot. I enjoy going to Disney with you guys because it's a wonderful family trip. And I enjoy being with you guys and just being on Main Street. This year, I'm really, really, really looking forward to my first MNSSHP, which is something I've been dying to go to since they started them, and dressing up as Chief Smokey Miller. The thing I want to do most is go to the MNSSHP and the Moonlight Magic at Animal Kingdom, because I can't wait to see what Animal Kingdom looks like at night. And I'm looking forward to spending a week at the Grand Floridian. Because I do like it, and the way it's set up. And I would like to meet several vloggers this year and get pictures with them."

Favorite Park: Magic Kingdom
Favorite Resort: Polynesian Village
Favorite Ride: Alien Swirling Saucers/Slinky Dog Dash
Favorite Restaurant: California Grill
Favorite Snack: Mickey Pretzel (with cheese!)
Favorite Souvenir: Lighted Jingle Bells/Alien Headband
Favorite Character: Grumpy

Susie: Our mom!​
"From the time it opened until the time I was 20, I went to Walt Disney World twice a year. I like Disney World because when you're there, you can be a kid. It doesn't matter how old you are, you can have fun. You're in a whole different world. You can just forget about everything and relax. I'm looking forward to renting my cabana at the Grand Floridian pool, walking on Main St. USA with my Joffrey coffee, and getting my Dole Whip. And I'm looking forward to seeing my ghost (Haunted Mansion) and hearing "welcome home!" And I hope to run into the Trackers! (In reference to TheTimeTracker on YouTube)."

Favorite Park: Magic Kingdom
Favorite Resort: Contemporary
Favorite Ride: Haunted Mansion
Favorite Restaurant: Homecomin'
Favorite Snack: Mickey Ice Cream Sandwich
Favorite Souvenir: Pandora Disney charm
Favorite Character: Winnie the Pooh/Dumbo

Grace: My 17-year-old kid-sister-who-isn't-a-kid-anymore!​
"My name is Grace. I will be attending Montclair State University in the fall. My favorite TV show is Chilling Adventures of Sabrina. Um. Uh-um... I... I, um... are you writing that?... Personally, my laptop is currently broken. Um. I have to wake up at 5:30 in the morning for school. I hope one day to meet Chris Pratt. Yeah. that's it.

Favorite Park: Epcot
Favorite Resort: Grand Floridian
Favorite Ride: Seven Dwarfs Mine Train
Favorite Restaurant: La Hacienda de San Angel
Favorite Snack: Quick Service Fudge Brownie
Favorite Souvenir: Slinky Headband
Favorite Character: Peter Pan

Kaitlyn: That's ME!​
Hello, I'm Kaitlyn, known here on the DIS as Newsies, known on some other parts of the internet (including my own blog) as tinkerkait. I'm a 21-year-old college student, theatre usher, and writer currently living out the dream in NYC. I credit myself with giving my family "the Disney bug," and I completed a WDW Disney College Program in 2016! I'm also the planner of the family. It's a tough job being asked three times a day where we're going to eat when we go to Epcot, but someone's gotta answer them.

Favorite Park: Epcot
Favorite Resort: The Polynesian Village
Favorite Ride: Slinky Dog Dash
Favorite Restaurant: California Grill
Favorite Snack: Joffrey's Caramel Iced Latte
Favorite Souvenir: Spirit Jersey
Favorite Character: Tinker Bell
​

As I mentioned earlier, planning this trip has been a WILD ride so far-- hence why I've broken my personal promise and started my PTR so early! So with that being said, I am going to cut the intro here. I can't wait to update you guys later with...

... the DRAMA of the DVC waitlist!
... the THRILL
of Mickey's Not-So-Scary Halloween Party tickets!
... the BAITED BREATH waiting to register for Moonlight Magic!
... the READINESS TO POUNCE for high-demand ADRs and FP+!
... and SOME OTHER THINGS!

Off we go!
​

​
Last edited: