<<This space intentionally blank>>
Moderator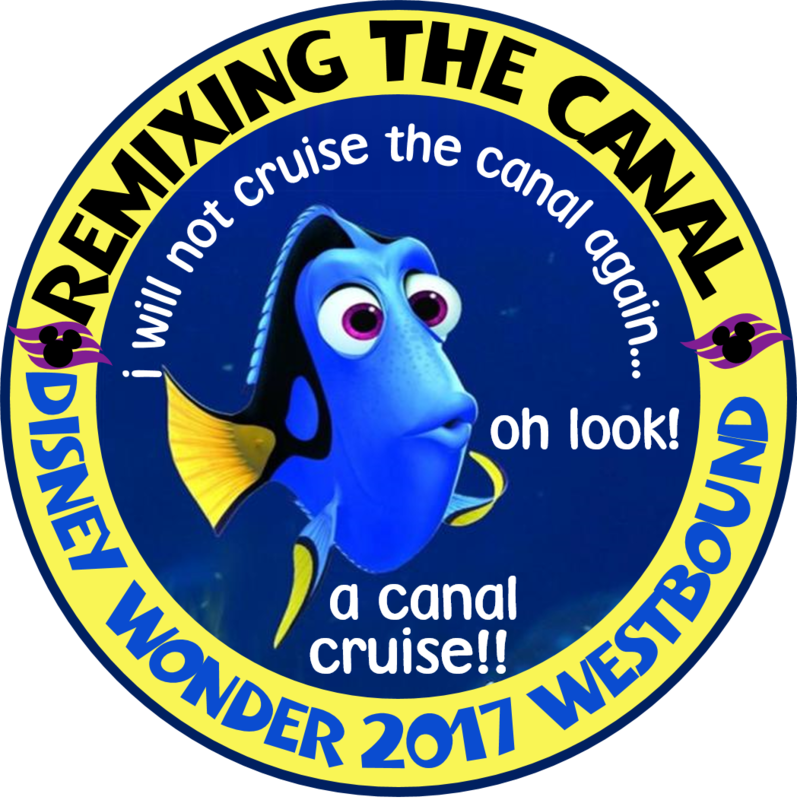 So, welcome one and all to the recap of our latest adventure. I decided not to write a pre-trip report this time, for many reasons, but mainly because I was so darn busy on the run up to this trip that it just wasn't possible. But, for anybody who is interested, here's the back story…
Two years ago Gary and I took a bucket list trip through the Panama Canal on the beautiful Disney Wonder. If you would like to read about that trip and haven't already, you can find the trip report
here
. Even before we had left on that cruise, we were already planning to return in 2017, to share the experience with friends who couldn't join us on that trip. We had an incredible Facebook group in 2015, which I thought couldn't be surpassed but, if anything, our 2017 group was just as active and fun, and everybody was amazing. Many of our friends from the 2015 cruise had also rebooked and would be joining us again this time. We had so many activities, events and fun things planned, I began to wonder if my relaxing 2 week cruise would be as relaxing as I hoped.
It just so happened that the long-awaited new locks for the canal were so far behind in their construction that this trip was likely to coincide with the opening of the new locks which added an additional level of excitement and anticipation. But, despite the new locks opening in July 2016, right up until the Disney Wonder underwent dry dock in September, it wasn't clear whether we would be completing the passage in 2017 through the new or old locks. However, as soon as it was confirmed that the Wonder had been fitted with the infamous duck tail, we knew we would have to transit the new locks as the Wonder was now too long for the old locks. This was very exciting news and would enhance the trip even more. With Gary and I being so busy at work, the time went very quickly and before we knew it the day had come to leave for Heathrow. So, without further ado….

Wednesday 19th April – Never have I so badly needed a holiday!!!
As I inferred above, this past year has been incredibly challenging, stressful and busy for both of us – with family illness and both of us being completely maxed out at work. Even Gary had spent the few weeks prior to the trip saying how badly he needed a break and how much he was looking forward to the holiday. Anybody who knows Gary knows that this is practically unheard of – that in itself should tell you just how trying the previous 12 months have been.
The day we were travelling to Heathrow had finally arrived. I woke up super early, before the alarm had even gone off. I had booked the day off work, but the day before a member of my team had been off sick and I'd had to stand in for her at a workshop, which was due to continue today, so I was half expecting a text asking me to go in to work. Gary had to work this morning anyway, so we both got up together and I just pottered about for a bit. I couldn't relax, half wanting to go into work to check everything was OK and half hoping I wouldn't need to. Sian had the day off so she turned up around 8.30, having stayed at her boyfriend's the night before, so we had a bit of a chat and a catch up. I hadn't heard from work so assumed I wasn't needed and off I went to have my pre-holiday beauty session. My Dad and step-Mum had already pre-paid my treatments so that was a lovely surprise.
As soon as I got home, I fired up the laptop to check in online for our flight the next day, having already pre-booked our seats a couple of days previously. For some reason I couldn't check in online, although I wasn't too worried – this had happened to Tony and Theresa in 2015 and it turned out to be just a random check that was needed at the airport. However, I had paid for an extra bag and it seemed that the payment had gone through so I was nervous that this hadn't registered and I would have to pay extra again at the airport. Still, there was nothing I could do about it until we got there so I decided not to worry about it. I am slowly learning not to stress about the things I can't control.
I made some lunch for me, Sian and Daniel, then I finished packing my hand luggage. I was taking part in an ornament exchange and had bought expensive glass baubles from John Lewis. They were beautiful but I was so paranoid that they would get broken in the luggage, I had made the decision to carry them in a small overnight bag and take them on the plane with me. Just before 2, my step-Mum arrived to take us to the train station, and Gary got home from work shortly afterwards. We shoved the last bits in the cases, loaded up the car and we were off.
At Chippenham train station, we discovered that our train was delayed by 20 minutes, but we still had plenty of time to make our connection. They kept changing the time of the train, to the point where I feared it would be cancelled. But it duly arrived and we staggered aboard, with all of our bags (one day I will learn how to travel light), found our seats, evicted the squatters and settled down for the 45 minute ride to Reading.
Despite the delay, we still had time for toilet breaks and to buy a Pepsi Max from Boots before boarding the train to Gatwick. Why, why, why do they never have enough storage on this train for luggage? We'd deliberately opted for a slightly earlier train from last time, as this is generally a commuter train also, but it was still a pretty uncomfortable journey, sandwiched between our suitcases and surrounded by a woman with smoker's cough, a guy picking his nose and two rowdy, cackling teenage girls. About half an hour into our journey, I noticed that Gill from our Facebook group, who was on the next train from Reading with her husband and friends, Maxine and Duncan, had posted a picture of them at Reading station. They were hot on our tail!
We made it to Gatwick and headed straight over to North Terminal, where Virgin now fly from. Twilight check in was dead. The payment HAD gone through for the extra bag and everything was fine…or so we thought. "Have you made any changes to the ticket since you booked?" asked the check in agent. I told her we hadn't and she reassured us that everything would be fine, but she needed to make a call as the system wasn't allowing her to check us in either. Eventually, after several fraught minutes where we could just hear her end of the conversation, she managed to resolve whatever the issue was and we were handed our boarding pass. I decided to ask about a possible upgrade to Premium Economy but she explained we would need to go to the ticket desk in the morning to check. She was able to confirm that there were seats available in Premium and that there was a special currently running, where we could upgrade for £199 each. We decided we would sleep on it and decide in the morning if we wanted to go for it.
Check in done, we made our way over to the Premier Inn to check in there. Having always been Hilton enthusiasts, we nearly always stay at the Premier Inn now. They have really upped their game in the last few years – comfortable rooms and extremely pleasant, friendly staff. You really can't beat it for the price – our stay for that night had cost us £55.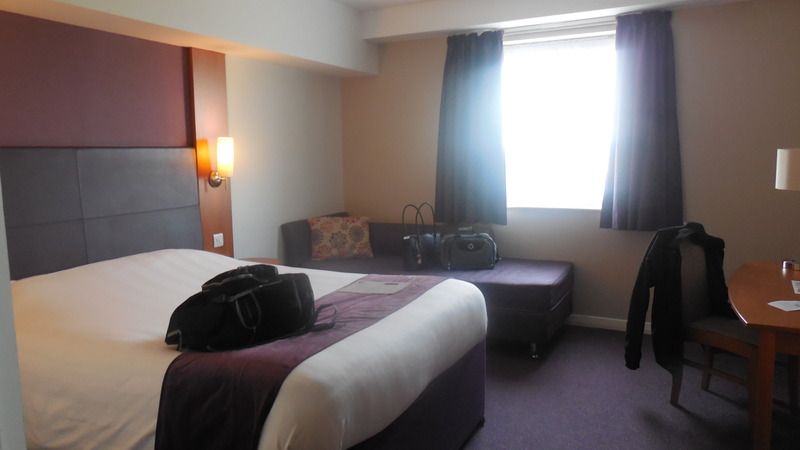 We chilled out for a little while in the room, before heading back out and across to the terminal, where we were planning to have dinner at Nicholas Culpeper. We were seated upstairs and greeted by a very friendly waitress, who asked where we were going. She was very surprised to hear that we were "going on a Panama Canal cruise with a couple of hundred of our Facebook friends"
Having not had a drink since the Thursday before Easter (an afternoon/evening session that involved 3 bottles of Prosecco, a broken phone (after I dropped it on my friend's bathroom floor), several cuts and bruises (after slipping over on said bathroom floor soaking wet after getting out of the hot tub), a trip home with a bemused Gary, with me wearing just a dressing gown, and many other embarrassing and unmentionable acts over the course of the day), I was somewhat wary of alcohol but decided to test the water with my old friend, the Cosmopolitan. Gary had a mixed fruit Kopparberg.
And we toasted our imminent holiday.
We were starving so ordered food – fish and chips for me and all day breakfast for Gary. I do apologise for the lack of food photos, I can't believe I didn't take them. The food came quickly, as is usually the case with these airport locations, but it was very fresh and hot. At least mine was. Gary said his could have been hotter, so maybe it had been sat around waiting for mine to be ready. We ordered more drinks, the holiday was already well underway!
No sooner had we finished eating than Gill, Gary, Maxine and Duncan arrived. We did introductions and had a little chat; then they settled at a nearby table to get some food themselves. Gary and I ordered more drinks – a Mojito for me and another cider for Gary.
We were messaging Kim and Terry - so excited to be seeing them the next day. Our waitress brought me a sample of the gin they distil themselves. I am not a gin drinker at all, but actually once I had gotten over the initial taste, it was really very smooth. I knew Maxine liked gin so I offered her a taste. We ordered another round of drinks and, when the others were finished eating, they joined us and we chatted for a while about previous holidays, kid and all kind of stuff. Eventually, we called it a night and headed back to our hotel where Gary and I watched TV for a little while, before turning out the light around 11.
Chapter 2 - Why?
Last edited: