♥ Saved by an angel in a trench coat!
NOTE: I will be changing the photos in the next several weeks, to clear photos of the cookies again.Sorry for no good photos at this time.
These cookie recipes are sooo yummy, quick and easy to do. They bake up quickly & seem like you spent much longer making. They are great for holiday time, parties, picnics, bake sales - you name it! With so many personal choices of add-ins, the different cookies are only limited by your imagination of creative variations to combine.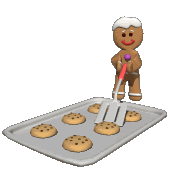 1 pkg dry cake mix (any flavor, any brand!)
2 eggs
1/2 cup of oil (or melted butter or margarine for more buttery flavor)

OPTIONAL: Your choice of add-ins!

Mix these ingredients together (INSTEAD of the usual ingredients listed on the box for making a cake.) You will get a very stiff mix instead of batter. This is right.


Roll into balls, flatten slightly onto greased cookie sheets.
OR: Drop by spoonfuls onto greased cookie sheets.
Bake at 350 for 7 to 10 minutes.
Yellow cake mix cookies are easy to frost and decorate.

TIP for flatter cookies to decorate:
(from
Crystal0608
,) "I sprayed the pans down really good with Bakers Joy & when they are almost done cooking I took them out of the oven, b/c they poof up, so I smushed them flat with my hand [or a spatula] then cooked some more."
TIP:
The moister type cake mixes (the ones with the pouches or pudding) tend to have big "rocks" in them, lol. Two things I have learned along the way...put the cake mix through a sifter, just like flour, (but not absolutely necessary,) and if you are using chips, like chocolate or butterscotch, etc., it is much easier to get an even dispersion of chips through the mix if you put the chips in the bowl first. Same applies for nuts or any other additive. The mix dusts the chips and disperses them better.
TIP:
when storing them, or any cookies, even hard store bought ones...put a slice of bread in the air tight container and it will keep the cookies soft, or make the hard cookies soft.
OPTIONAL CREATIVE VARIATIONS:
(I got these from others online. More in the posts that follow.
) Just keep the ratio to about 60% cake mix and 40% add-ins.
Double Chocolate cake mix with white chocolate chips (or M&Ms.)
Yellow cake mix cookies with a 1/2 bag of Heath Brickle (toffee) Bites, or Butterfingers, they are SO good!!!
Chocolate chunks with nuts.
For the holidays: Add
green
&
red
M&Ms. All
blue
M&Ms for Hanukkah cookies.
With this simple yellow cake mix, baking with kids, they can get creative adding in their own combinations items, chocolate chips, peanut butter chips, nuts, m&ms, crushed candies, sprinkles, raisins, dried fruits, coconut, etc. They don't even have to make a whole batch of the same cookies. Just separate the dough into different bowls & play with tossing in the various add-ins, making a few of each cookie. (Dust the add-ins with the cake mix ahead of time.) This way they have fun with the making of the various combinations.
Red Velvet cake mix with cream cheese frosting
Orange cake mix and chocolate frosting
Lemon cake mix with some chopped walnuts
Spice cake mix with diced apple in it
If you really want to impress someone, use chocolate cake mix, and roll the balls in powdered sugar. When you flatten them, they get a cracked look and when they're done they look like some delicate thing you'd get at the bakery. (Lemon or strawberry cake mix works great too, with the p. sugar.)
Chocolate cake mix and adding some peanut butter to it.
For chocolate chip brownie cookies from a brownie mix, add a tablespoon of cinnamon to cover the artificial chocolate taste and a teasp. of vanilla.
Add 3 Tbl. of unsweetened cocoa to boost the chocolate taste in chocolate mixes, or 1 square of unsweetened chocolate.
Butter pecan cake mix, add some walnuts and coconut and a touch of maple syrup. Add some water (just a touch) as it is very thick. Cook a bit longer because of all the add-ins. Shows how really creative one can be in adding ingredients.
There's a recipe to make sturdy

Gingerbread Houses

out of cake mix in POST #81

ADDED recipes for cake mixes:
Biscotti recipes: POST #114



Cookie Bar

recipes contributed by members are Posts: #17, #54, #67, #91, #98, #126, #136, #141, #172



FUDGE

and

Quick Dessert Breads:

POST #157



Scone recipes:

POST #167, #174



Cookie pops & Cake Pops:

POST #196



Cookie Cups:

POST #197, #198, #225
Make up the cookie dough, above, for the cookie cups.

Click --> The Complete Cookie Storage Guide
This guide has great tips for storing cookies & how to freeze cookie dough.
Enjoy!


Here are also several wonderful DIS archived threads on appetizers & other goodies that people already created. (They are not just for the holidays!) They are excellent DIS resources.
Boxed Cakes w/ a Little Extra!

Quick & Easy Christmas treats - Page 53 - compiled list

Quick and Easy Appetizers & Snacks

Quick and Easy Cakes from mixes

New Year's Eve appetizers

The *Official* Holiday Recipe 2007 Thread

Christmas Cookie thread

Post your favorite cookie recipe (Favorite, more complicated recipes.)

What is your most ridiculously easy dish that draws raves?

.
Last edited: