Day 2: Wednesday, April 3
THE MAGIC IS ALIVE HERE (Part 1)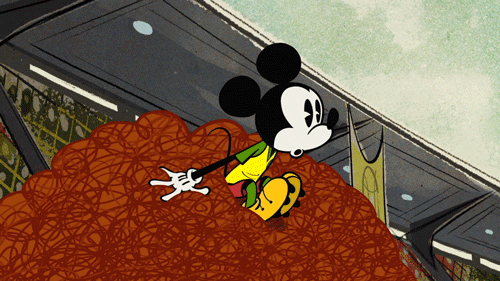 ​
I am one of those annoying morning people - I wake up naturally around 6:30 - 6:45, and "sleeping in" for me is around 7:45 AM. Wild and crazy over here, I know. All that to say I'm not at all surprised that I bounded out of bed around 6:15! It was so quiet in my room, too. I actually made a note of that in my trip notes — I live on a fairly busy street in DC, so it was a little eerie to have it be so silent.

I got ready for the day while snacking on some leftover Truffle fries - I mean, I had too - I wasn't going to move them over to the Boardwalk with me. I probably left the room around 7 AM, and I dropped my bags off at Bag Services for transfer over to my next home: The Boardwalk. This was the first time I had used this service, and it was super easy; with a split stay, this was what made me most nervous, but I should have trusted Disney would know how to take care of it with ease.

It was shockingly a little chilly at this point (57 degrees!), and so I decided to take the bus to Magic Kingdom. While waiting, I actually encountered a family that said the boats weren't running that early, which seems weird as it was 7:30? It was a fun wait for the bus though because there were lots of tiny excited children in costume on their way to character breakfasts. I felt quite boring in my jeans.


Even though I had already seen the Train Station on my transportation adventure the night before, I was still super excited to arrive at the Magic Kingdom that morning! At that point, it was around 7:50, and I confidently strolled over to the tapstile where they were letting in people there for tours/breakfast reservations, and my band wouldn't scan. I tried probably about 5 times, to the point that they brought over a supervisor, and when he scanned it on his iPad, he told me that I didn't have a park ticket.

​
I felt myself getting flushed, and I think I stammered out something along the lines of, "yes, I do, and I have 8 days of fast passes. What do you mean I can't get in?" I was sent over to Guest Services, and though I might have looked calm on. the outside, I felt like I was having a little bit of a panic attack. Finally, I thought to open MDE, and it showed that I had all of my fast passes and I had purchased an 8 day ticket, so at least I didn't dream that.

Long story short, at Guest Services, we realized the MagicBand I had brought with me to the park that day was somehow tied to F's account on MDE and not mine? I'm honestly not sure how that happened, but at least there was a reason the Mickey head wasn't turning green. I thought that I was going to have to go back to the hotel, find the other MagicBand I had brought with me (somewhere in my luggage), and miss the beginning of the day; however, the lovely man at Guest Services was able to give me a hard ticket to enter the park. Whew.

I looked at the time stamps on these photos, and I arrived at the park at 7:51 and had the new ticket issued at 7:58, so it only felt super long in my head! At that point, I was able to enter the park and walk down Main Street to see the best view someone could ask for on a Wednesday morning.


I guess this is a good time to apologize in advance for all of the selfies you'll see in this post - it was only me in the parks today, and I didn't trouble other guests for taking pics.


If
you
walk past the Castle and you don't take a selfie, were you even there?

Breakfast that morning was at Be Our Guest. I feel confident that I learned on the boards that, due to the nature of the restaurant and its pre-ordering, your reservation time was immaterial to when you were seating. Following my minor heart attack and walk down Main Street, I beelined straight for the Beast's Castle, and I sat down around 8:10, I think. I had pre-ordered a kid's breakfast, which thankfully came with coffee, and it was the perfect amount of food to start the day.
​
​

I also hadn't expected to get a full pastry plate with a kid's meal order and and as a solo diner, so that was a fun surprise! I only wish that I had remembered a ziplock, so I could have thrown them into my bag as a snack for later. My pic info shows that I got breakfast at 8:14 AM. I ate, got more coffee, and headed out to get in line for Mine Train around 8:30 AM. At that point, there were probably only about 20 people ahead of me.
​
​

I drank my coffee, I watched people around me who were all super excited to be in the park, and I got ready for what I was sure would be a great day (spoiler: I was right - it was a fabulous morning in the parks). Riding Mine Train to start the day hadn't been part of my original plan, but I am so glad that I was able to make it work. They started moving us to the ride around 8:55 AM, and I think we entered the line a minute or two later.


​

To date, I have only ever ridden SDMT through the Fast Pass line, and so today was a special treat! I've read about all of the entertainment in the line for a long time, and it was neat to finally see all of it. However, as we were basically powerwalking through the line, I didn't really get a chance to play with anything. I'm not going to complain about no real wait on the ride, though.​

​
I was on the second train of the day, and I was in the second row! It's such a cute ride, and I am so glad that was how I started my solo morning in the park. By the time I was off the ride, the park was just opening! I could hear the welcome show and see the fireworks on the other side of the Castle, and I was already off my first ride of the day! This is when I thanked my obsessive Dis reading coming up to the trip - I felt like I was already winning the game.
​
I can't believe it's taken me this long to get to park opening, but I guess verbosity is a gift of mine. Up next - the rest of a magical morning!
​